FLOATING HOME MARKET UPDATE 2018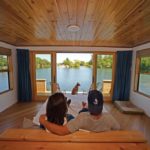 HAPPY 2018! The floating home market looks like it will be strong again this year! Inventory was very low in 2017, so floating homes that were priced correctly sold right away. In 2018 I predict a stable floating home market with higher prices (but keep in mind that you pay for what you get in the floating homes.). So what makes a floating home priced right?
Just as in homes on land, location is key to pricing. The floating home you buy will be where you want to live. Oh, what about moving it to a new or different location? Well, yes, that is possible too. But for now, let's look at the home where you find it. Location for floating homes is about what you are looking for. Floating homes in Portland Oregon are located in moorages on one of the two rivers: Willamette River and Columbia River. The Multnomah Channel is part of the Willamette River, flowing north between the main channel of the Columbia and diverting water from the Willamette where it will re-join the Columbia at St Helen's. So, what do you want in your floating home life style? Kayaking? Sailing? Swimming? Bird watching? Rural setting? Harbor setting? All of these lifestyle choices are available for floating homes.
Condition of the floating home is also a factor in pricing. Clean, well maintained, de-cluttered. It's a great idea to have a current float report on the float in the home you are selling (but this is another blog post) and of course, it is a very good idea to have a float report on the floating home you are buying. Having this information available to potential buyers will contribute to the buyer feeling confident about investing in their floating home.