Floating Home Slip Ownership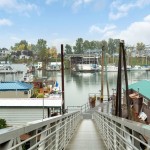 One of the first topics I discuss with potential buyers of a floating home is whether or not they want to purchase the part of the moorage with their home, or if they are open to a leased slip moorage. Let's take a look at what is often referred to as slip ownership, but is in reality a fractional ownership interest in a larger organization such as a moorage.
What is a Slip Ownership Moorage?
In the floating home market, a slip ownership moorage can take many forms. In all cases, you are purchasing a floating home that is part of a larger community; the floating home community moorage shares financial responsibility for things like parking on the uplands, access via the ramp, the docks, the sewer system for the community, the water system (either well water or public water), utility service such as natural gas, electricity, propane, and potential dredging or maintenance of the river bottom beneath the moorage. The moorage might also have real assets to include such as garages or storage buildings, a gated entrance, lighting in the parking area or on the docks, easements for utilities or other property owners. All of these things require a budget of some sort to maintain them, and a committee ( usually a board of directors) to make decisions about maintenance, repair and replacement of these important systems. The benefit of what I call 'fractional ownership' in the moorage is that YOU get to participate in deciding how your 'neighborhood' will be maintained and how it looks and works. You get a vote on the cost and the process of projects and monthly expenses. The bottom line is that fractional ownership of the moorage, commonly referred to as slip ownership, gives you as an owner more responsibility to make decisions and usually results in a lower monthly fee.
Ownership can take several forms. You can own the assets (docks, gates etc) and lease the uplands. You can own the docks etc and also own the uplands and the mud beneath the moorage. You can purchase into an organization such as an HOA (Homeowner Association) which gives you ownership in the organization and the organization owns the long term lease on the land and docks.
Part of your decision will include where you want to live; not all areas have floating home moorages that offer ownership. Part of your decision will include your monthly budget for the community fees. I will go over slip lease in another post. This is just one part of your decision to live in a floating home. Keep in mind, if you're lucky enough to live on the river, you're lucky enough!!