Floating Home Slip Lease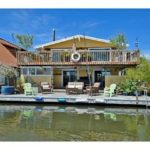 All floating homes are in communities called moorages. Some communities are owned by someone else, and some of them are owned by fractional ownership shares by the residents. I am writing today about slips that are owned by someone else: floating home slip lease.
What is a slip lease?
A floating home slip lease is where you pay each month to 'dock' your floating home at a moorage. Rule of thumb is that if your monthly moorage fee is over $500, you are renting or leasing the slip. The floating home slip lease fee will cover some of your expenses such as dock maintenance, parking, sewage for the community, water access (sometimes it includes your water usage too) and garbage. Each moorage might include different things, but all of them include the basic elements of a community.
What is the difference between floating home slip lease and slip ownership?
As with any rented situation, when you have a floating home slip lease you have less control over the cost of your monthly fee. Keep in mind that you are paying a share of all community services such as access to gas, water, sewer, garbage and so on, AND you are also paying the owner of the property a fee that is his income for owning the property. That said, there is a cost to owning the slip. Buying a floating home that includes the slip will cost you more in purchase price, and cost you less in monthly fees.
Which type of slip should you buy?
Of course this depends on your budget. But it also depends on the location you choose and sometimes on the amenities you want. Sometimes a buyer might have more monthly cash flow than cash for a larger down payment. In this case, floating home slip lease may be necessary.
What are the terms of a floating home slip lease?
All leases are different of course. Some moorages only have month to month floating home slip lease. But don't worry, you wont' be asked to move your floating home as long as you pay your monthly fee. Sometimes there is a large 'move in' fee to secure a long term floating home lease. The term might be 20 or 25 years, and any increase in monthly fee is usually outlined in the lease.
Remember! If you're lucky enough to live on the river, you're lucky enough!