Raving Fans: Words From My Clients
"Wow, she's good!"
Karla was just great to work with. As we navigated our floating home purchase, we kept saying to each other, "Wow, she's good!" She was very responsive to our needs, knowledgeable, resourceful, upbeat, straightforward, communicated very well, always prompt, provided electronic signing for quick turn-around. Above all, she was extremely flexible. We would heartily recommend Karla for any real estate needs.
KM and RM, Portland, June 2016
No Hype and Follow Through!
Thank you for your knowledge, conscientiousness, and follow-through in facilitating the recent sales of my floating home and slip (at West Hayden Moorage).
I enjoyed working with you and appreciate your no-nonsense and no-hype approach to the entire process. You did what you said you would do, and your assessment of the market and demand proved to be spot on.
I would recommend you to anyone looking to list and sell their property of any type, but particularly floating homes. You know that market very well and live in a floating home yourself. Thank you!!
Robert M Arcand  2016
Karla did an excellent job handling all the difficult issues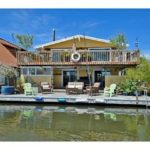 Moving is not fun.  Period.  Selling a house and buying a new one is not fun.  It's stressful.  A lot can go sideways.  A lot of unexpected things will come up.  I didn't go into it thinking it was going to be an easy task.  If it was easy, why would I need a real estate agent?  I knew I wanted to find an agent with experience with floating homes.  After a little investigating online, and Karla's name came up again and again.  I was pleased to see that she also had experience selling houses on land.  I really wanted to only have one agent to do it all.
My move was tricky: repairs on both ends, lots of furniture to move (including fishtanks!), and a very small overlap time window to get it all done. Karla did an excellent job handling all the difficult issues that arose while selling my old home, buying the new one, and even moving.  I appreciated her candor, her tact, her experience and resourcefulness.  She told me the truth whether it was pretty or not.  She kept me informed at every stage and explained my options when a decision had to be made. She cares, she listens, and I never felt like I "settled" on anything. I got all the things I wanted: a great sale price on my old home, a new one with a view, a friendly moorage that allows dogs, close to Sauvie Island, and a gorgeous house.
Now I wake up every morning looking at the sunrise over Mt. Hood and Sauvie Island. I feel like I am in a vacation home; living the dream I always had of being on the water.  This was the best decision I have ever made, and Karla made it happen.
Susan Ruzicka 2015
"She gave us good advice when needed"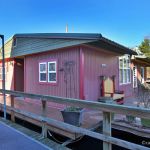 Karla listed and sold our floating home over the last 6 months. There were highs and lows in the process and every step along the way, Karla was directed, cool, calm and in charge.
She gave us good advice when needed and gave us room to decide for ourselves when that was needed as well.
Karla is a smart professional Realtor.
I would highly recommend her services-  Lorraine Thomas, August 2015
"..an accurate assessment of the market .."
I want to thank you for all of your efforts to sell our home. We had many challenges which you patiently and professionally overcame.
 Throughout the process for over 2 years you remained totally professional and acted in a fair and unbiased manner. Your diligence and determination was very commendable in spite of all the events and issues that we had to deal with.
 Your knowledge and expertise in floating homes is remarkable and extremely helpful. You always have an accurate assessment of the market for floating homes and their values.
I would highly recommend you to any client that is interested in selling or purchasing a home.  Sincerely, Gere Frailey July 2015
"…available at our convenience "
We met Karla Divine at a time that could be very difficult and often stressful; the death of a parent. We found ourselves in possession of a houseboat that was not livable and had no immediate value and a moorage slip with value if the houseboat was removed. Karla was able to make that happen in a very timely manner by finding both a buyer to remove the existing houseboat and a buyer for the moorage slip. Karla helped us evaluate the property and find a company to remove all the damaged possessions. Since we lived over five hours away, Karla made herself available at our convenience and at a time that worked for us. After the initial consultation she made it possible for most of the process to be handled through electronic media which saved us the time and expense of additional travel as well as the delay of mailing documents back and forth.  It is our great pleasure to recommend Karla Divine for matters dealing in the buying and selling of real estate.
Sincerely, The DeLong Family, June 2015
"Extremely Knowledgeable"
"I worked with Karla both on both finding a home and selling my home, and found her to be 
warm and open, extremely knowledgable about her business (in my case, with floating homes, she knew precisely
which loan agencies, insurances companies and inspectors to work with, and took away all the stress
regarding this unusual way of living). She was available to me around the clock, highly responsive, and
a joy to work with. Most of all, her creativity in coming up with terms to make a deal work is truly impressive.
And if you're lucky, she becomes a wonderful friend to boot! Karla comes highly recommended
and will help you navigate the shoals of selling or buying. She is unusually helpful
in answering all questions and concerns, and a great sounding board. I am grateful for her extraordinary service."
– Laurie Fox,  June 2015
"A Good Agent to Have on Your Side!"
T. Soter, 2015, Oregon Yacht Club
Karla Divine is a good agent to have on your side if you are considering a floating home. We used her to buy our place.
"Someone I Could Trust!"
Jerry Letendre, April 2015, Islands Moorage
"Thank you! I have just moved into my new floating home on the Columbia and life is good. It is really amazing how you were able to put together such a complex deal. It was only during closing at the title office when it became clear how much work you did behind the scene to keep the process stress free for me and make things happen. After working with a couple other realtors during the prior year without success, it was quite refreshing to work with someone I could trust wholeheartedly. You answered the phone most times, or got back to me right away and always kept me in the loop. Feel Free to share this letter and hand out my name and number to anyone requesting a reference."
"We highly recommend her as a  real estate expert"
Mark and Teresa Lawwill, Hayden Island, April 2015
"We really appreciate Karla's hard work to help us secure a floating home that we have had our eye on for a long time. She lives in the same moorage where we purchased, so her knowledge about river living, and specifically the moorage which we will be part of,  was very important to us. Throughout the process of negotiations, due diligence and closing on the home, Karla was highly professional, organized, and creative with solutions. She is ethically very strong and dependable. She  uses  current technology  to streamline paperwork. Client care is clearly very important to her, as evidenced by her attention to detail, accessibility, quick response times to messages, etc. We are so happy to have met Karla,  and consider her a  good friend. We highly recommend her as a  real estate expert" 
  The Perfect Realtor
We had the pleasure of working with Karla when we recently relocated from New England to Portland and needed to quickly locate and purchase a home. Karla's keen insight into Portland's neighborhoods, and their pros and cons, as well as the overall real estate market proved very helpful. Karla worked hard to determine our true interests despite our being all over the map in terms of what we thought we wanted. We appreciated her patience as we refined our wants and needs and her gentle re-direction when we veered off course! Most importantly we trusted her judgement when it came to making a safe investment in a market that we were not at all familiar with. We also greatly appreciated how hard she worked for us when it came to negotiating and closing the deal. Throw in lots of good advice on local resources along the way, and you've got the perfect Realtor! Thank you Karla!
Rick & Kate H. , Brooklyn neighborhood, close in SE Portland December 2014
Karla Helped Us Relocate!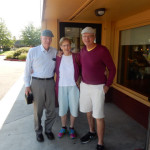 Karla  came down to Central Point and looked at properties with us and pointed out problems of which we were unaware. She interviewed locals brokers in both Central Point and our old home town, and helped us choose one that could work with us in finding a home that had all the aspects we really wanted, It was a big challenge, but we were successful and are very happy. Kristin and Joe J.,  Central Point OR
Satisfied Fan!
D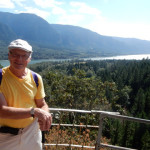 ear Karla – You already know I buy, manage, improve and sell residential real estate.  After 22  transactions, I still  wouldn't dream of doing a deal without the help of an agent.  Simply put, you don't cost me money, you save me money.  My search is for  properties with upside potential with value-added improvement.  To find the property that will make me happy, you consider my goals and my budget and my personality.  If we're in another state, you interview people to find my the perfect fit for my needs.  The added value that you bring to a project are your team of "helpers" – bankers, inspectors, consolidators and insurers;  your knowledge of neighborhoods – what's on the way up; your feel for sellers and buyers; and most of all, your scintillating personality.  You're a heck of a lot of fun when we're on the hunt!
Korey Jorgensen     or
Korey, a satisfied  fan – of you and of real estate.
PS  You even helped my Swedish friends navigate the shark-infested real estate waters of Southern California.
---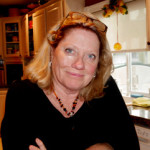 Lucky to Find Her
I was so lucky to find Karla. It wasn't easy finding my perfect house, but Karla guided me through the process with her remarkable depth of knowledge and unfailing patience. Thank you so much.
Nancy Schoen, Home Buyer September 2014, Troutdale OR
Exemplary Service
July 2, 2014
It is with great pleasure that I am writing this note of appreciation for Karla Divine owner of Divine NW Realty.  I have known Karla for years.  We both raised our children years ago in Eugene, OR.  It was without a second thought to call Karla for representation of selling my home.  Her wonderful character and strong business acumen made it a very easy decision.   Selling my home was a challenge in this economy and posed some creativity thinking and persistance on Karla's part.  Today, the house has closed and I celebrate the kind of excellence exemplified by Karla and her team.
Best Regards,
Liz Diehl, Hayden Island-Portland OR
Cutting Edge
Hallo Karla,
You have been extremely professional and diligent to all details during this entire transaction and definitely a cutting edge realtor!
All the best!
SK, Floating Home in SE Portland
Sold in two weeks!
" Karla sold our home in less than 2 weeks. I could not have asked for more."
Debi T., La Center Washington
Deep Expertise
"I've known Karla since around 2006. She is the consummate professional – providing exceptional service, a strong knowledge of real estate including deep expertise on niche residential properties like house boats, and she's a wonderful person who I'm certain most of her clients end up becoming long-term friends. She also has a strong overall business background and knowledge. I know her past clients have raved about her service. I would highly recommend Karla"  Eric W.
Sold It!
"In both cases she helped us get the best deal and understand the process involved. In particular we were able to sell our house  to the first buyer who looked at it."  Brian and Marci B.
Candid Advice
"We have retained Karla as both seller and buyer. She is great to work with, really knows her stuff and is always sharply focused on looking out for her clients. She picked up on many issues, some quite subtle, that could have seriously cost us. She advised us candidly and always paid great respect for our perspectives and decisions. We have used the real estate agent services of many excellent agents over many decades but Karla is without question…the best." Kathryn G.
Professional and Knowledgable
Comprehensive understanding of the Portland metro market is absolutely critical to your buying and selling success, especially in a fluctuating real estate market.  Karla Divine knows Portland real estate and draws upon her extensive network of real estate-related service professionals to serve her clients.  Karla helped us acquire, and years later sell our condo in The Henry.  She handled each transaction very professionally, with good and frequent communication and timely follow-through.  Karla really listened to us, and provided thoughtful advice informed by her experience.  She works hard and smart…an unbeatable combination!  Rob & Jen S.
She's a Gem!
"It took me a long time to find the right house. Karla was with me every step of the way, often pointing out things I had missed, even if it meant I wouldn't be buying that particular place. I never felt hurried to make an offer, but when I did decide to do so, Karla walked me through the process with patience and efficiency. She is really a gem."    Rebecca H.
Reliable Follow Through
"Karla helped us buy a home in Lake Oswego. We enjoyed working with her, she was very knowledgably, reliable and followed through for us. We love our new home!" Ann J.
6 Stars
"If there are 6 or 7 stars I would give them to her. Particularly in the area of negotiations and honesty and integrity." Tamsen W.
Efficient Communication
"My Dad passed away and Karla was able to sell his floating home in a very efficient and timely manner. None of the siblings lived in the area and we had had to totally rely on her to get the job done. She did a great job and is very knowledgeable of the floating home market in the Portland, Oregon area." Shaun R.
Perfect Condo!
"Karla was so helpful, we found the perfect Condo in Portland!! Thank you Karla"  Polly & Mark B.
Patient, hardworking and able to Navigate problems.
"We first heard about Karla Divine Realty through our floating home moorage.  Karla took us on as clients knowing that we had a difficult and time-consuming float repair ahead of us.  Our first impressions of her were that she was open, warm, straightforward and knowledgeable.  We relied on Karla a great deal to help us navigate through all phases of putting the home on the market, including the completion of the float work and helping us identify people to complete additional work that was necessary for selling.  Despite the magnitude of the float repair, she continued to show the property as much as possible during the time it was being constructed, working closely with the person repairing the float in order to do so.
We appreciated Karla's openness and accessibility throughout the process.  Either by email or by phone, she was prompt in her responses which is what sold us on her originally.  We felt like we knew our options at all times (and in our case, we were exploring both putting the home on the market and making it available to rent.)  We also appreciated her knowledge of the moorage, particularly since she resides on a floating home herself.  We felt like she wasn't just knowledgeable about selling homes, she was knowledgeable about selling floating homes!  That was really important to us!  " We had a very good experience working with Karla and we would most certainly recommend her to others looking for a Realtor, particularly those wanting a realtor with strong expertise in the unique market of floating homes!  Janelle & Jeff M
Great Results, Expert, High Integrity
"I have benefited from Karla's guidance as both a seller and a buyer, and trust her judgment implicitly on matters of real estate. Karla is extremely personable, taking the extra steps and anticipating my family's needs from a service orientation that is more then we expected, but much appreciated. Karla's industry knowledge has continued to benefit us as the market has drastically changed through 2008 and we look forward to a continued relationship into 2009. I highly recommend Karla Divine."  Glenn & Michelle L.
Great Results, Personable, Expert
"I have hired Karla once before to be my agent on a transaction and have recommended her on four separate occasions to clients and friends. All the folks I recommended her to engaged her in their transactions and complimented me on the recommendation. In my own transaction, Karla demonstrated her deep love of real estate, was always prompt to get back to us on questions she did not have the answers to and proved she is a savvy negotiator.
Honest and knowledgable
"I called Karla from an ad for one of her listings. She proved right way that she had the qualities I think are most important; honesty, integrity and knowledge. I appreciated her negotiation method, and am very happy with the work she did for me. I will definitely use her again when I need a realtor, and I highly recommend her to anyone looking for an easy to work with person who is an expert in the Portland real estate Market. " Doug B.
Great Results, Expert, High Integrity
"Karla has been our Agent since we moved to Oregon in 2006; 2 houses later I give her high marks…" January 12, 2009  Michael & Izumi P.
"I have worked with Karla for many years and in that course of time she has consistently been a great resource, a trusted adviser, a good friend and someone with great integrity and ethics. She has done what only a handful of business partners have done for me – she has been a mentor and helped me to become a better professional and a better person. I recommend Karla highly and hope you get the chance to work with her soon."  Mark A.