Portland Rowing Club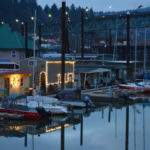 Just Sold this cottage at Portland Rowing Club! Wow…that was cool. This cottage has a front row view, plus a tender house and a mid-way swim float. Portland Rowing Club is a private club, with a row of floating homes that look across to Dunthorpe neighborhood. The Portland Rowing Club is located just up river from the new Sellwood Bridge on the Willamette River. This home belonged to a long time member of the club, and included a small rental property on the dock side. These homes very rarely come up for sale, so it was no wonder that I was able to put it under contract immediately for full price. This is a very sweet community with additional boat storage in the back, and a generous park on the uplands.
Membership Required
Membership in the club is a requirement but easy to get. The community is very close knit, and walking distance to shops and restaurants in Sellwood. Residents of the club love to use their ski boats and jet skies in this part of the river where they can boat up to the Willamette Falls and enjoy picnics on beaches along the way.